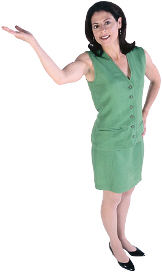 We've advised or surveyed many of the
UK's largest organisations
. Our
core service
is based around the use of our powerful Quality of Working Life survey tool to help you assess any/all aspects of stress, well-being and quality of working life.
We use this tool to give you exactly the analysis and reporting service you need to benchmark well-being and performance at work.
Because our tool contains three discrete, psychometric scales, we can either focus in on a particular aspect of concern, for example work-related stress, or provide you with a broader, more comprehensive survey service that looks at multiple aspects of well-being at work.
So, it's mainly a matter of deciding which scale you need feedback on. We can give you feedback on one scale, two in combination, or all three. Our page: "Which QoWL scale do you need?" will help you decide. Please contact us for a guide to our analysis and reporting costs.
Additional services
If you think you might require any of these additional services, just let us know and we will provide you with a quote.
Paper versions of the survey
If you require paper versions, we set up that for you too (there is a small additional charge for this, dependent on how many questionnaires require to be processed and what postage option you choose).
Organisation-specific questions
Our core question set provides excellent feedback on most, if not all, aspects of stress, well-being and quality of working life. As these questions have been fully tested, we generally advise sticking with them in order to get the resulting benefits of reliability, validity and benchmarking capability. However, there may still be organisation-specific questions you wish to add to your survey. With the survey-construction expertise in our team we can definitely help with this.
Open question and qualitative analysis
We can include a relevant open question in your survey to generate comments and suggestions from staff. From the data generated, we can produce a qualitative analysis for you that summaries the main themes emerging.
Departmental Reports
We can produce additional departmental reports. These are summary reports designed to be used by managers and staff teams in particular parts of the organisation as an aid to the local action planning process, following the survey. These reports provide an overview of the results for the particular department and benchmarking against other parts of the organisation. Such reports clarify the key local issues and are a great help to managers in deciding upon what needs to be prioritised to improve performance locally.
Consultancy follow-up
We can provide you with consultancy follow-up for example, on-site feedback to your senior management team. A QoWL consultant can also provide support with facilitating focus groups and semi-structured interviews if required.
Our experienced consultants and partners are able to provide a wide range of consultancy services to support you in making positive changes to quality of working life, including facilitation of focus groups and action planning, bespoke training interventions, and a range of individual interventions.
Please contact us to discuss your specific requirements and to get a quote.